As SDCE's exclusive distributor for France, Adsol is a long-valued partner operating across the full length and breadth of one of the UK's most significant neighbouring countries. Sales manager Valérie Mazenc explains how Adsol has formed such a productive relationship with SDCE, supplying technicians all over France and beyond with the best quality testing consumables.
As a specialist in its field, Adsol is the name known to most textile technicians throughout France. Established in 1951, Adsol is the leader within a niche industry, offering a range of materials to businesses wanting to ensure that their own fabrics meet international ISO standards for washing, staining and performance.
Primarily a fabric specialist offering adjacent and standard reference fabrics, Adsol spotted an opportunity to supply a more comprehensive range of testing products almost two decades ago.
"We were familiar with SDC Enterprises, and knew that its products were held in high regards by textile professionals across France," says Valerie Mazenc. "We approached the company's then-executive director around twenty years ago, and began a relationship to distribute SDCE' s products alongside our own range of verification fabrics."
The partnership was formalised in June 2006, and has since flourished into one of SDCE's longest-standing distributor relationships. With customers across a wide range of industries – including the automotive sector and the armed forces as well as its core textile consumers – Adsol has become a one-stop-shop for all things textile. In particular, SDCE's grey scales, multifibre, phenolic yellowing products, detergents and cotton lawn are consistently in demand for Adsol, with consistent sales year after year.
The stability of the operation is something that Valerie Mazenc attributes to the personal attention to detail that comes from such a small set-up. Headed up by Alain Chanois with herself as vice president, Adsol has remained loyal to its key principals of service.
"We tend to ship goods the same day as we receive the order, or next day at the latest," she says. "Sales are stable or –  in the case of our export sales – are increasing, but that does not mean that we have become complacent with regards to our market position."
As Adsol looks to the future, the company's plan is to invest more time and effort into promoting its full range of products in a bid to ensure that Adsol remains the leader in its field.
"We are a small team and we enjoy a good relationship with the small team at SDCE," says Valerie Mazenc. "Our focus now is on maintaining our stable sales within a global industry that is so subject to change."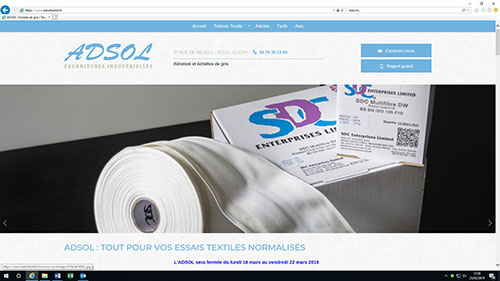 Find out more about Adsol here, and discover the full portfolio of SDCE products here.