Global Resources Management Group was SDCE's first official distributor for India. For 17 years, the two companies have worked hand-in-hand to develop a multi-national business, each playing to their strengths to remain ahead of their game in the world of textile testing consumables.
Rooted predominantly in India's thriving leather trade, Global Resources Management Group – or GRMG – is a respected supplier of consumables and textile testing.  Since its inception in 1986, GRMG has established a rich network of manufacturers and retailers, all of whom rely on GRMB to provide the best quality leather testing equipment and products to keep their textiles up to standard.
It was through this extensive network that GRMG first came into contact with SDC Enterprises, while working with Holland's prestigious Centre for Testmaterials (CFT).
"We have established a wide footprint across India and also the world and we are renowned for our specialised products and equipment," says GRMG's general manager Abul Hassan Basheer. "When we came into contact with SDCE products, they were immediately distinguished from other testing product brands, and we saw the potential to unite this quality product with our extensive network across our home country."
The relationship was made official in 2002 and, for a period of time, GRMG was the exclusive distributor for SDCE products in India.
"We are happy to be the oldest distributor for India," says Abul Hassan Basheer. "We cater to a wide range of clients from leading commercial testing laboratories to textile mills and export houses. We also have a number of small resellers who work with us to reach the more remote regions of India, which ensures that we have maximum exposure across our home country."
GRMG's reach has been so extensive that it has added Bangladesh, Pakistan and Sri Lanka to its portfolio of target markets during the past 17 years. Under the leadership of sole proprietor Sundari Subramaniam, the company now employs nine people, including support and despatch staff and a customer service team.
"A typical day for us involves many aspects of providing technical advice, processing orders and maintaining documentation pertaining to purchases and despatches," says Mr Basheer. "We pride ourselves successfully representing SDCE and its interests, and feel privileged to have a very cordial relationship with the company."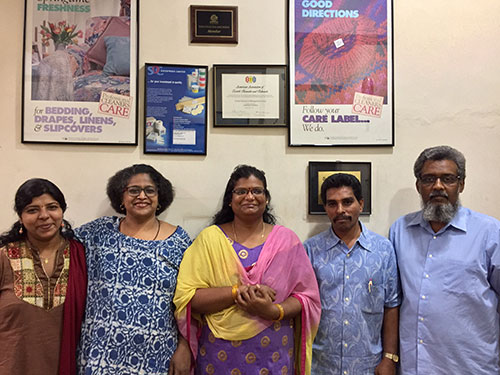 Find out more about GRMG here, and discover the full portfolio of SDCE products here.