As the distributor for China and Hong Kong, GTE has the largest geographical territory of all of SDCE's global partners. Henley Cheung explains how his company manages such a substantial operation while driving the business forward from one year to the next.
Although only established in 2003, GTE has a relationship with SDCE that stretches back far beyond 16 years.
"All of the key members of the GTE team have worked with SDCE for many years in a variety of capacities," says Henley Cheung, GTE's director. "We developed a strong relationship with all of the global brands and retailers when we worked at Labtest [now known as Intertek], before we combined our knowledge and experience to establish GTE in 2003."
The rich network of contacts across the Far East stood Henley and his colleagues in good stead to represent SDCE products across Asia. The combination of leading quality products, local knowledge and global aspirations saw GTE establish a successful operation across its home territory and beyond.
"We have an exception level of experience in this field and work closely with all the independent testing labs, supplying them with specially-made mechanical tools as well as SDCE's range of consumables," explains Cheung.
Far from simply supplying a demand however, GTE is built upon a philosophy of keeping ahead of the game. Those at the helm of the business proactively undertook some research with some leading online retailers, and discovered that they were increasingly relying upon their suppliers to carry out their own quality control, rather than using independent test labs to assess products on their behalf.
"This made SDCE's verification and correlation fabrics even more useful to a wider range of manufacturers," says Cheung. "Regular verification enhances the quality of testing, and we were keen to maximise the potential of this gap in the market."
GTE continues to head up a successful operation, despite one ongoing challenge that continues to be prevalent across the territory of China.
"There are more and more competitors, including inferior copies of testing products" admits Cheung. "SDCE continues to be the market leader, but we need to maintain our strong partnerships with the global brands and major retailers, as well as focusing on excellent product continuity year after year."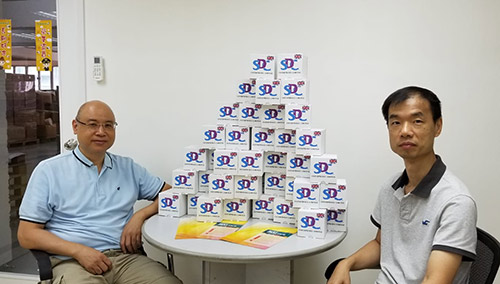 Find out more about GTE here, and discover the full portfolio of SDCE products here.