SDCE's newest distributor is coming aboard amidst an exciting time for Vietnam, and the testing specialist has big plans for its new era of trading. Director Carol Pham explains how Khoi Toan and SDCE can form the perfect partnership, overcoming difficult trading conditions in the wake of the Covid pandemic.
When it comes to textiles, Vietnam is one to watch. Already one of the top three exporters globally, the country's textile sector is tipped to grow by ten per cent by 2023. Coupled with a free-trade agreement due to come into force later this month, Vietnam has a lot of potential – and it comes just as test equipment specialist Khoi Toan joins forces with global leader in textile testing consumables SDCE.
"As the world recovers from the COVID pandemic, we are well-placed to maximise the potential of the textiles market in Vietnam," says Carol Pham, director at test equipment specialist Khoi Toan. "This year will see EVFTA [European Union Vietnam Free Trade Agreement] come into force; an ambitious pact to eliminate almost 99 per cent of customs duties between the EU and Vietnam. We think that we can increase sales of SDCE products as a result, and also build awareness of the brand across Vietnam in adjacent sectors beyond our core market."
Although Khoi Toan was only officially added to SDCE's portfolio of distributors last month, the testing specialist has been recommending SDCE consumables to its customers since 2014. As a SATRA-authorised agent for testing equipment in leather and footwear, Khoi Toan has identified a key area for growth outside of the core apparel market.
"Vietnamese factories that are producing for the big clothing brands and the Vietnam Textile Research Institute already use SDCE products for their daily tests as specified by their clients," says Pham. "However, most footwear factories are unfamiliar with any SDCE products beyond grey scales, so there is a lot of potential in this sector for us to work with brands such as New Balance, Puma, Skechers and Wolverine."
Established since November 2009, Khoi Toan is well-respected in its sector. The company specialises in the calibration, servicing and maintenance of test equipment for textiles and leathergoods, and the addition of SDCE consumables to its portfolio expands it offer to a more comprehensive level.
"This is another reliable source for us which will help to improve our competing capabilities," says Pham. "Our ethos is Always satisfy customer requirements, and that extends to after-sales service and consultancy. Having the best consumables at our disposal falls in line with that approach to offer the very best that we can for the entire testing process."
As the global textile sector recovers from the impact of the hardest-hitting pandemic in modern history, Khoi Toan has a firm business plan to rise to the top of its game. "We are on track to the be the number one testing solution for all of our local customers within the next five years," concludes Pham. "A big part of that is bringing the SDCE name closer to end users in Vietnam, and we will continue to surpass customers' expectations with our sales-through-service mantra."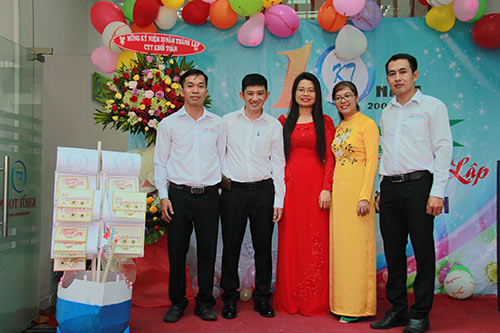 Find out more about Khoi Toan here, and discover the full portfolio of SDCE products here.