SDCE moves into new territory this month with the expansion of its direct distribution into Russia. The distribution will be overseen by testing specialist Metrotex and, as sales director Kiselev Pavel explains, it's a partnership of potential for promoting textile excellence as standard.
With an extensive portfolio of laboratory measuring instruments and over 30 years' experience, Metrotex has become the leader in its regional field for testing excellence. Since 1990, the test equipment specialist has introduced between 30 and 45 new pieces of equipment every year, bringing its present-day total to 550 types of measuring equipment for professionals in the textile, light and chemical sectors.
It's a reputation that Metrotex is loathe to compromise. When it comes to recommending adjacent products, brands are carefully selected on the basis of sharing a certain synergy of excellence with Metrotex's own offer. For the firm's textile equipment, SDCE has become the brand of choice for adjacent consumables and, having seen how highly regarded the SDCE name is, Metrotex spotted an opportunity to make the partnership more official.
"For five years now, we have been supplying SDCE products to customers and we have not received a single complaint," says head of sales & marketing at Metrotex Kiselev Pavel. "Our clients are happy with the quality of SDCE products, and that fits into our ethos of supplying both the tools and test equipment that professionals need for the accurate assessment of materials."
The SDCE portfolio is already highly regarded across Russia and other CIS [Commonwealth of Independent States] countries, with grey scales, blue wools, adjacent fabrics and Martindale consumables most in demand. SDCE's commitment to consistency and excellence is supported by certificates of conformity, full batch traceability and alignment with BS, EN and ISO Standards, and this is mirrored Metrotex's own business model.
"All of our equipment complies with GOST [the Euro-Asian Council for Standardisation] and ISO Standards and carries a calibration certificate," says Pavel. "The SDCE portfolio fits seamlessly in with our offer, and we have immediate plans to present the range on our website and take product samples to the major specialised exhibitions that we attend regularly."
Aside from its involuntary hiatus from the exhibition circuit, Metrotex has escaped relatively unscathed from the effects of Covid-19. "The production department was not suspended for a single day," says Pavel. "Measures of individual protection and social distance were taken, and the marketing and sales department worked remotely from home. Most importantly, all contracts were completed on time and on time."
Now as the industry adjusts to life after Covid-19, Metrotex has a clear business plan to take its partnership with SDCE into a new phase of development.
"Due to the pandemic, many enterprises reduced their activity at the beginning of the year," says Pavel. "But in general, life is being restored in Russia and business activity is high; it is a good time for us to focus on the promotion of SDCE materials."
Pictured left to right; Kiselev Viktor – CEO, Kiseleva Tatiana – chief accountant and Kiselev Pavel – head of sales and marketing.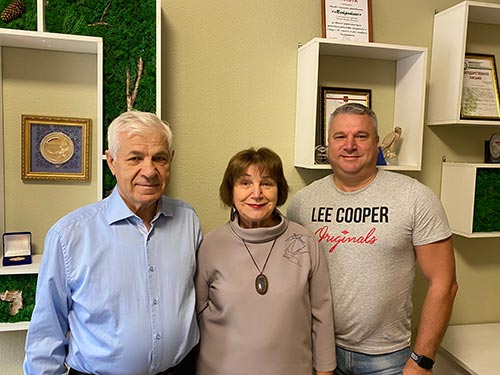 Find out more about Metrotex here, and discover the full portfolio of SDCE products here.