As the Thai textile trade evolves and develops, Phisit is always at the forefront of the industry as SDCE's long-established trade partner. Sales director Torpan Phisitkul explains why SDCE products are in such demand across the length and breadth of Thailand.
With a strong historic base in silk and cotton production, Thailand is home to a significant textile trade. What began as small cottage industries, spinning and weaving across the length and breadth of the country has evolved into a significant global presence, with Thai textile exports now valued at over 7 million dollars.
Such a significant operation relies heavily on the quality of its products. As Thailand's textile sector has grown, so has the country's demand for stringent testing procedures, and the materials needed for effective textile assessment.
"Our customers were using SDCE products long before we became an official distributor for the company," says Torpan Phisitkul, Phisit's sales director. "Having seen the performance of SDCE's testing consumables, we contacted the company to offer our services in bringing the full range of products directly to testing professionals in Thailand who were seeking the very best in the industry."
Nine years on from being appointed as an official SDCE distributor, Phisit has become one of the company's most esteemed trade partners. Having been established since 1973, the firm is held in high regard as a supplier of dyes, chemicals and machinery. The addition of testing consumables completed the offer for Phisit, allowing the company to grow as a one-stop-shop provider of all things textile for the testing community.
"All of our products are held in high regard because of our fullest effort to promote them as such," says Phisitkul. "We have faced our challenges in the country both politically and economically but, despite this, we have evolved into a successful business encompassing three operational sites in Prachinburi, Nakon Prathom and Bangkok, all delivering the very best in quality with a level of service to match."
Today Phisit employs 345 professionals, and has become a global player in the textile testing sector. The team were out in force at the most recent edition of ITMA Asia, where Phongphat and her team were able to catch up with those at the helm of SDCE back in the UK (pictured).
"We have a common goal with SDCE in that we value the products, and want to spread the word that they are the very best in the industry," says Phisitkul. "Our target now is to bring more customers on board as we move into an exciting new era of global textiles."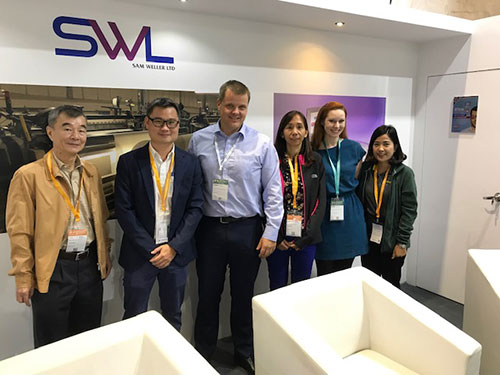 Find out more about Phisit here, and discover the full portfolio of SDCE products here.