For S.R Traders, family values are so important that even the company name alludes to the founder's two sons. Three generations on from its inception, the small family business has been instrumental in supporting Pakistan's textile trade and, according to import manager Muhammad Raees, it's all down to stringent quality control and the highest standards in textile testing.
When Muhammad Ishtiaq founded his business in 1975, he already had a clear vision that his two sons would one day join his family venture. The talented craftsman named his business after sons Saeed and Raees, and S.R Traders was put on the map as a manufacturer of precision scientific instruments.
The second generation of the family subsequently came on board and, soon after being appointed as the import manager, Muhammad Raees spotted a new opportunity. Alongside his brother Muhammad Saeed – the company's chief executive officer – the keen businessman spearheaded a new venture to supply textile testing equipment and consumables to Pakistan's growing textile industry from 1997 onwards.
Around the same time back in the UK, SDCE was gathering pace as the global leader in testing consumables. Specified by many manufacturers and retailers nationwide as the industry standard – including some professionals in Pakistan – S.R Traders set about formalising a relationship with the industry's preferred supplier of adjacent fabrics, detergents and assessment aids.
"I visited SDCE in the year 2000 with a view to bringing the best consumables on the market back to the professionals here in Pakistan," remembers Muhammad Raees. "After some negotiations with managing director Mark Yare, S.R Traders was appointed as an official distributor for SDCE in Pakistan, and we have enjoyed an excellent business relationship across the continents for over 18 years now."
Today, S.R Traders employs a 15-strong workforce, including Muhammad Salman Saeed and Muhammad Farhan Raees, sons of Muhammad Saeed and Muhammad Raees respectively, and grandsons of the original founder. Despite some serious economic difficulties experienced throughout Pakistan, the country's textile industry is standing steady; something which Muhammad Raees attributes in part to stringent quality control and testing.
"Pakistan's textile business is stable, and it is developing because of the active support nationwide in enhancing quality textile exports," he says. "The new government is determined to boost exports – in particular textile exports – and, as quality consciousness is increasing around the world, so too is the demand for very accurate and reliable testing."
Across Pakistan, accuracy and reliability are synonymous with only one brand; SDCE. And because of S.R Traders' tireless dedication to spreading the word, it is the brand specified by testing professional across the length and breadth of the country.
"SDCE products are top of the line products ensuring reliable test results," says Muhammad Raees . "Now – because of our continuous efforts in Pakistan – textile testing labs demand SDCE products exclusively by name."
Despite the ongoing growth of the company, S.R Traders remains loyal to the hallmarks upon which it was built by founder Muhammad Ishtiaq.
"Most orders come to us via email these days, but I still visit clients regularly," says Muhammad Raees. "That personal interaction ensures that we are up to date with our clients' requirements, and that is what keeps us ahead of the game. It's not easy but, with the support of the new government, we are confident that the textile business in Pakistan will increase significantly over the next five years, and that the demand for textile testing equipment and consumables will increase accordingly."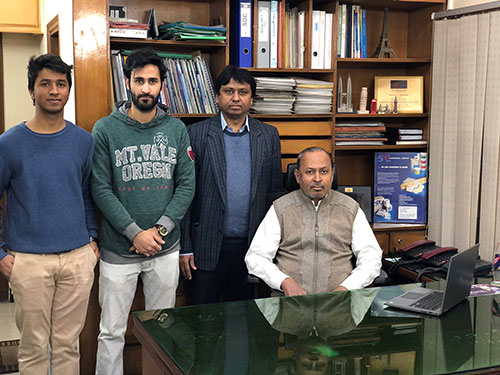 Find out more about S.R Traders here, and discover the full portfolio of SDCE products here.