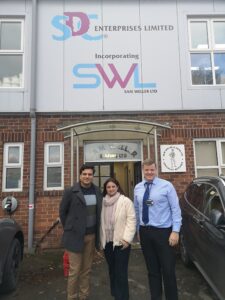 SDCE's longstanding partner Ramp Impex made a 4,000 mile journey to the UK headquarters this week in a significant first visit to the company in over two decades. Made more poignant by the recent restrictions imposed upon face-to-face meetings by the Covid-19 pandemic, the visit by Puneet and Rachna Rawal was an opportunity to re-align their sales strategy for India, as well as viewing the premises for the first time since SDCE relocated to Holmfirth, West Yorkshire in 2016.
The husband-and-wife team was welcomed by sales manager Kim Briggs and managing director Mark Yare, who hosted a tour of the site's full production facility.
"The absence of trade shows has left us with little opportunity to catch up with our global partners face-to-face, so we were delighted to welcome Ramp Impex to the SDCE," he says. "Demand for our products continues to be high as the worldwide industry begins its recovery from the pandemic, and we are well-placed to continue to work with Ramp Impex to develop sales across India and the surrounding areas."
Ramp Impex was established as an official distributor for India in 2001 when Puneet Rawal – a specialist supplier of scientific instruments – sought to bring high quality testing consumables back from the UK to the thriving textile trade of India.
"At that time SDCE was a pioneer in the marketplace, and we were already becoming familiar with the brand as specialists in the textile field," says Rawal. "I recognised the quality of the brand and felt sure that I could raise its profile back in my home territory."
The relationship became one of SDCE's most successful partnerships to date. Since officially appointing Ramp Impex as its official distributor for India in 2002, the joint enterprise has established over 650 accounts across India.
"The brand and the products have proven themselves over the past 17 years with regards to quality, consistency, correlations and performance," says Rawal. "Our key accounts include laboratories, apparel houses, brands and processing mills, all of whom trust the SDCE name, and trust us to deliver the goods."
Following their visit to SDCE's UK headquarters, Puneet and Rachna Rawal have set their sights on stepping up their efforts to supply India's rich network of textile testing professionals with the best in customer service, as well as premium products.
"Our ethos at Ramp Impex has always been that every year should be our best year and, following our visit to SDCE, we are looking forward to making that the reality for 2022."